SJW is committed to providing the best jazz education experiences possible, whether we can meet with our students in-person or online.
Summer programs
With up to four live sessions each day with some of the greatest jazz artists, private lessons, fun live group online activities, and access to SJW's library of on-demand jazz content, SJW Jazz Camp Online will help you get to the next level of mastery on your instrument or voice, and improve your jazz performance and improvisation.
We're happy to announce that we'll offer Jazz Camp Online in 2021, in two one-week sessions beginning July 11 and July 18. You can sign up for either week, or both!
And we're very excited to announce our new summer online program for adults, SJW Jazz Institute Online. Jazz Institute Online gives you an opportunity to connect directly with some of the greatest jazz artists in the world. You'll improve your instrumental or vocal technique, learn great repertoire, get deep into the history and culture of jazz, and become a much more confident jazz soloist.
At Jazz Institute Online, you get to choose your classes, pursue your interests, and create the perfect curriculum for yourself. Professionals, music educators, and amateurs will find just what they need to get their playing and teaching to the next level, and for adults 18 and over, no audition is required, just a recording for placement. Younger musicians who are still in high school can audition for admission, too.
You can turn either program into a special hybrid program by adding the Evening Combo Option for our In-Person Ensembles courses!
Just click on any of the tiles in the gallery at right to learn more, and to sign up.
After-school programs
Our popular after-school online programs, Giant Steps Jazz Online and Miles Ahead Jazz Online, use our exclusive virtual combo instruction that helps get middle school and high school instrumentalists to a more confident level, regardless of how much jazz experience they already have.
Giant Steps Jazz Online is for all middle school instrumentalists who have been playing at least one year.
Miles Ahead Jazz Online is for all high school instrumentalists who have been playing at least 18 months.
Miles Ahead Institute is open to high school instrumentalists by audition only. This special program focuses on learning classic jazz repertoire quickly and efficiently.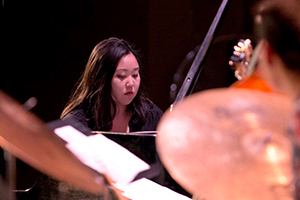 July 28 – August 2, 2024 For adults age 21 and over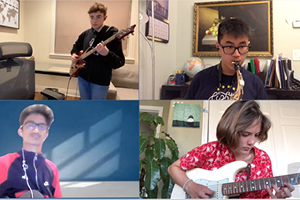 July 8 - 12, 2024 For ages 12 and up