Stanford Jazz Workshop is all about jazz vocals! Each of our summer jazz immersion programs has an integral program for vocalists, from middle school and high school singers up through college and adult professionals and amateurs. Our vocal faculty members are all noted performers and educators, with years of experience teaching fundamentals, opening up young singers to improvisation, and helping students to master the vocabulary of jazz.
Stanford Jazz Workshop's vocal programs emphasize strong fundamentals — such as tone production, intonation, rhythm, and diction — taught with classic jazz vocal ensemble literature. Solo singing and improvisation are also essential topics, as is repertoire, memorization, performance techniques, and much more.
No matter what age you are, we've got a vocal jazz program for you!
July 14 – 19 or July 21 – 26, 2024 For ages 12 - 17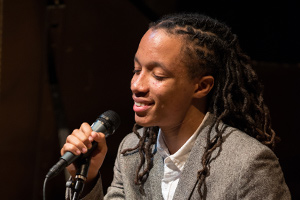 July 28 – August 2, 2024 for adults, ages 17 and under by audition